Laravel: Up & Running is launched and available for order!
Posted on December 13, 2016
!

Warning: This post is over a year old. I don't always update old posts with new information, so some of this information may be out of date.
I've got great news, folks—both the print and eBook versions of Laravel: Up & Running are now available at Amazon and O'Reilly. They're shipping today!
---
We had a little mixup where Amazon ran out of stock right on launch day, but it's now looking great: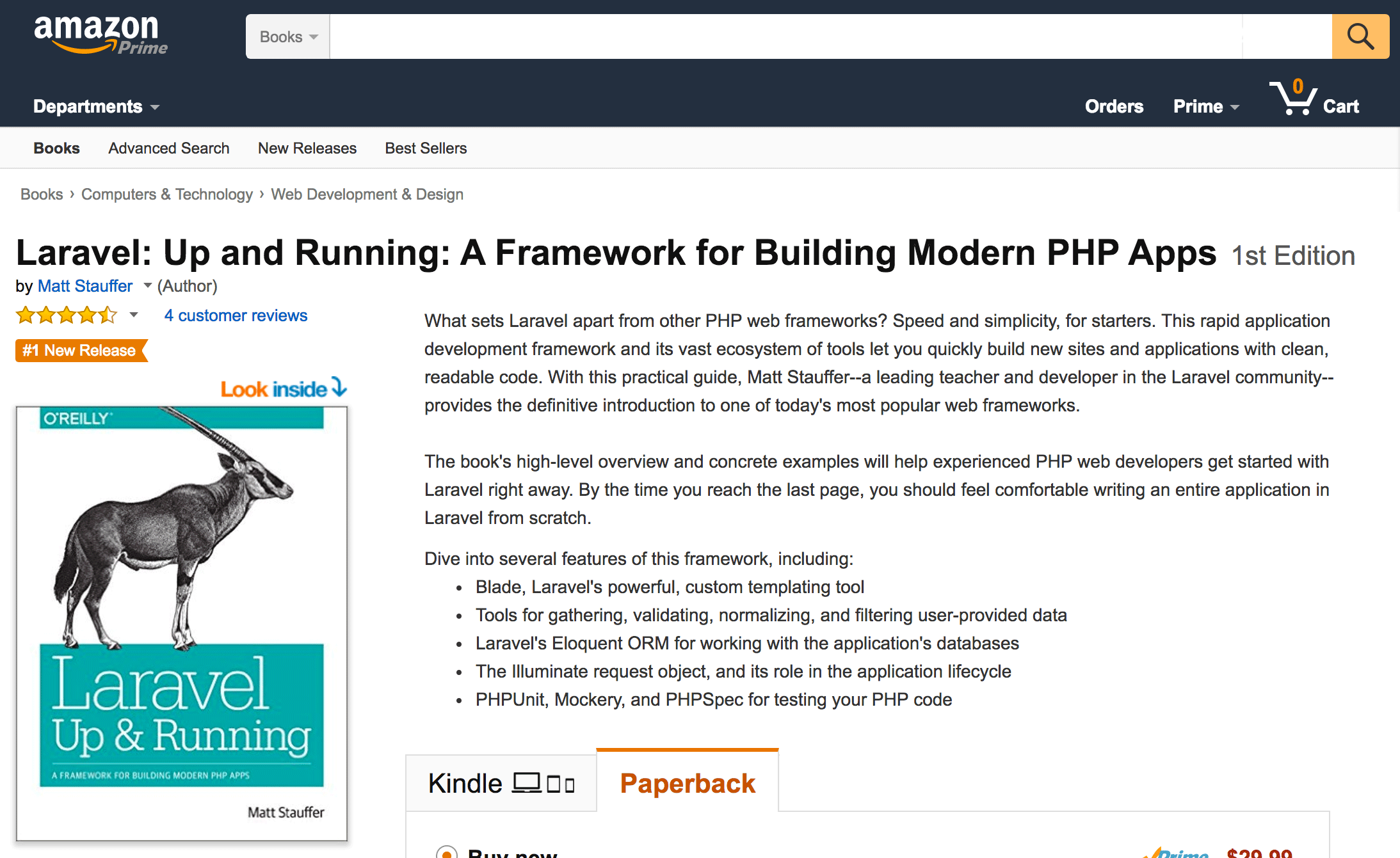 As always, Amazon has the cheapest prices (at least in the U.S.) and can sell the print and eBook versions of the book.
---
O'Reilly also has a page up for it, where you can buy the print book or any variety of eBook formats: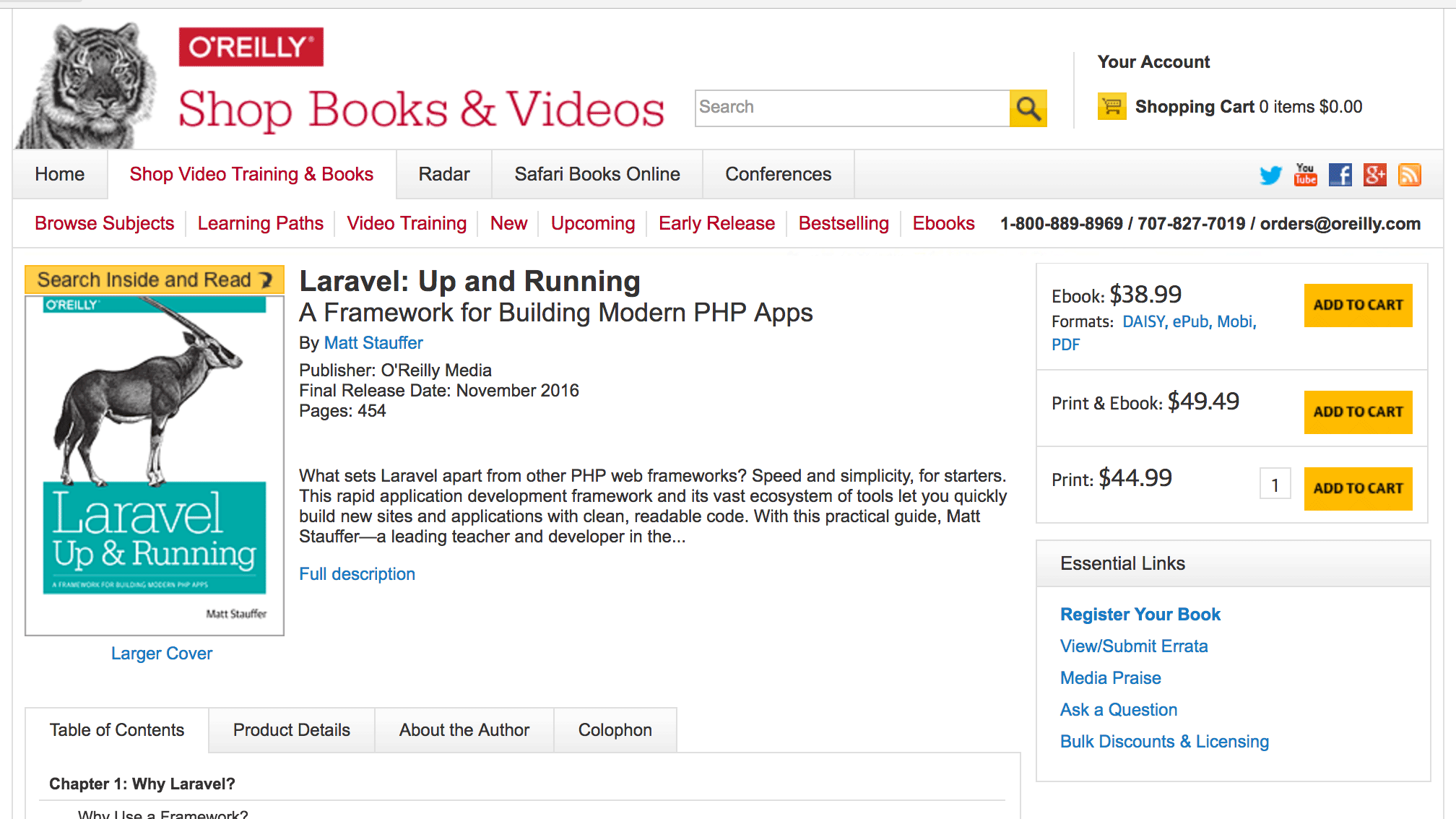 ---
Folks who pre-ordered are just now starting to get their print copies, starting in the U.K. and moving around the world, so I'm looking forward to finally hearing what everyone thinks.
I got my copy last week, and here are a few photos: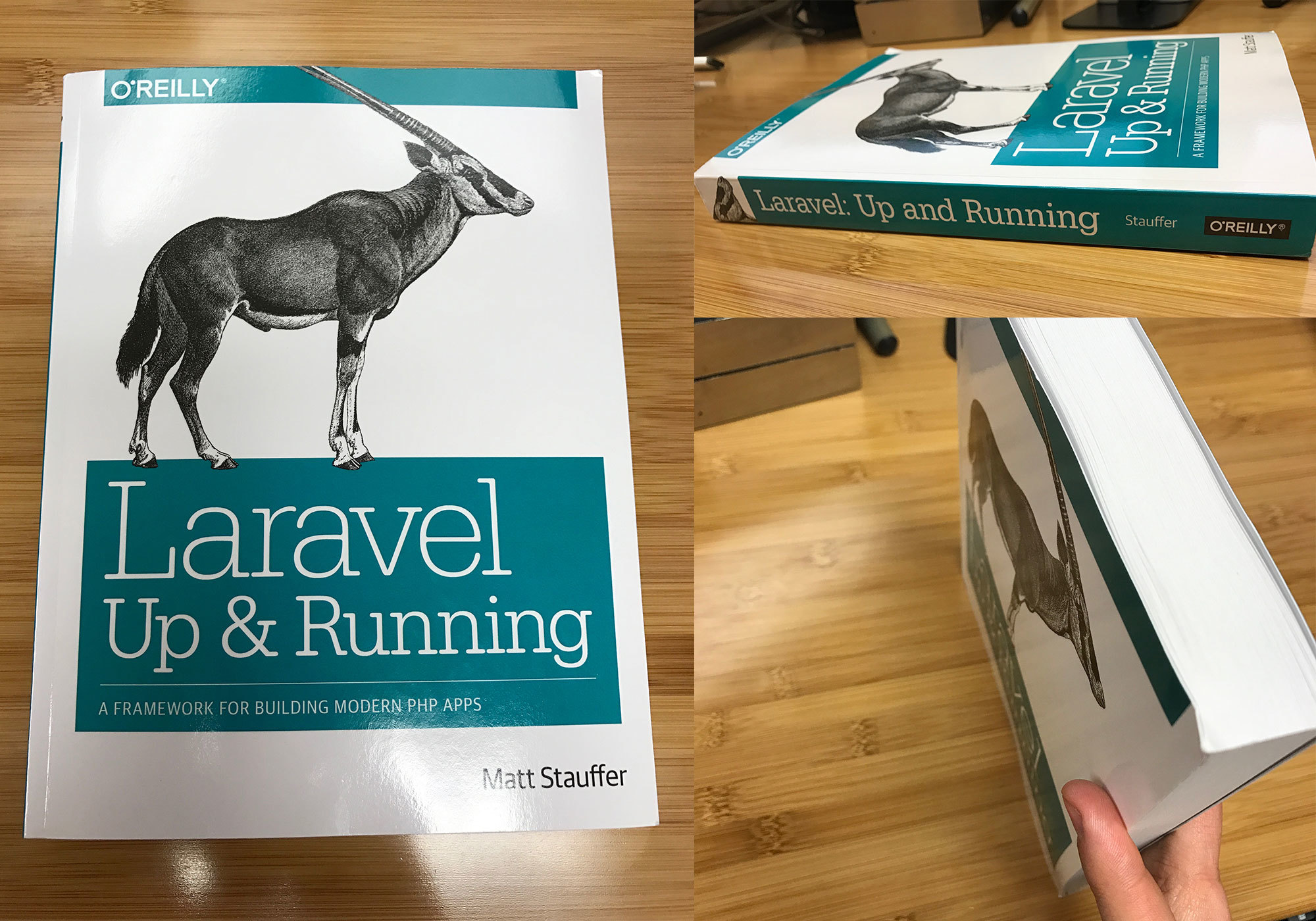 Yes, that's what 454 pages looks like!
---
Here are a few early reviews:
***** Great content for any level of Laravel developer, new or experienced!
This book has so many tidbits in it that helped expand my knowledge of Laravel. A huge amount of effort was put into making the content clear, understandable, and digestible. I recommend this for anyone getting started with Laravel or even as a reference for experienced users.

- Vince Mitchell
***** The best laravel book so far
I tried several books regarding laravel 5.3 in the last few weeks. And this is by far the best one if you are completely new to laravel like me.

The examples are short yet concise, easy to understand and the concepts behind them are explained very well. You learn a whole lot without getting overwhelmed with huge code examples.

While it's always best to try out all the examples in a programming book, you can read this one also without having a computer nearby and still get your head around the concepts in laravel.

I am glad I found this book!

- ronfrtz
***** Even useful for veteran Laravel devs
As a 4 years experienced developer with Laravel, I must say it was surprisingly helpful to learn some tips and tricks since we as veteran engineers think we know it all.

This shows how much effort Matt puts into learning the underlying codebase and thus sometimes giving more detailed and easy to learn information that isn't even in the Documentation (at least at the time of the Pre Release).

Matt is a natural teacher and has a great learning methodology.

- Andre Sardo
---
I'm overjoyed that this product of over a year of work is finally in people's hands. If you have it, please go rate and review it on O'Reilly or Amazon! And if you don't have it, there's no better time than now to go buy a copy.
And now... back to your regularly scheduled blog. Finally!
---
---
Tags: laravel • laravelupandrunning